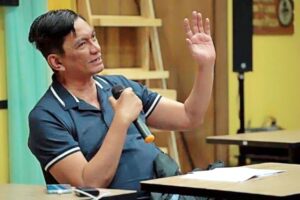 As part of his comprehensive education reform agenda and to help bridge the country's skill gap and reduce youth unemployment, House Ways and Means Chair Rep. Joey Sarte Salceda (Albay, 2nd District) has filed the Meister Schools Act, which will create specialized senior high schools that will teach highly-technical skills compatible with the manufacturing and other high-value industries.
"I have always been a believer in Technical and Vocational Education. It's what will transform our young population into an economic powerhouse," Congressman Salceda said.
The Meister Schools Act is modelled after technical-vocational schools in Korea that produce "meisters" or master-craftsmen.
"The effect that Meister Schools had in Korea were dramatic. 85% placement of first batch/generation or those who signed employment contracts. In the first two years of implementation, the employment rate of vocational high school graduates increased from 19% in 2010 to 42% in 2012. Imagine, as a tech-voc graduate, you can work first, and decide to go to college later if you think it's for you. But income-wise, you don't have to go to college anymore," Salceda said.
Salceda also cites cultural barriers are one of the reasons why technical-vocational education is not as attractive in the Philippines.
"Napakababa kasi ng tingin ng maraming Pilipino sa tech-voc graduates. But I would rather that we have a large base of highly-skilled, highly-hireable techvoc graduates without college degrees than give out so many college degrees that are functionally useless as far as our skills gap is concerned. Maganda lang pakinggan na may Bachelor's Degree, pero minsan napakalayo sa kailangan ng bansa," Salceda said.
"That's why I am elevating the status of technical and vocational education in the country. You will remember that I already filed House Bill 6247, or the K to 12 Reform Act, which essentially makes techvoc the default senior high school track, para lahat ng high school graduate employable, magcollege man o hindi. With the Meister Schools Act, magkakaroon ka na rin ng highly-competitive tech-voc schools. Parang Pisay (Philippine Science High School) ng techvoc. Free tuition, with scholarships and partnerships with top companies." Salceda added.
Salceda's bill also provides that Meister Schools will assist in developing technical vocational programs in the country.
"Yung improvements at innovations ng Meister Schools, lalaganap sa TVET schools under my K to 12 Reform Act," Salceda said.
"I promised comprehensive education reform. This is the third bill in that pipeline. There will be more," Salceda concluded.