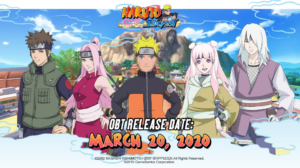 The wait is finally over! Cubinet Interactive confirms release date for Naruto: Slugfest this March 20, 2020. The mobile game Naruto: Slugfest-the World's First 3D Open World MMORPG mobile game adaptation of Naruto Shippuden is soon to be available and featured on Google Play and Appstore! ​
​
Naruto: Slugfest is available in South East Asia. It includes Australia, Singapore, Malaysia, Thailand, Indonesia, Philippines, India, Brunei, Myanmar, Vietnam, Cambodia and other selected South East Asia Countries. ​
​
It is packed with impressive features that will make players' ninja gaming experience unique and immersive. Naruto: Slugfest has massive PvP battles from 1vs1 up to 20vs20, and many more! There are also Shinobi tasks that ranges from simple D-rank missions up to the most challenging S-Rank mission. Your life as a ninja is filled with features such as Life System, Mentorship System and Clan System in an Interactive World that will surely make your ninja adventure truly social! ​
Mark your calendars because the release date of the game has set its foot on March 20,2020. Naruto: Slugfest currently has over 2 Million and of pre-registered users and counting! Pre-register NOW while it is open using the link below to join and receive exclusive in-game rewards once the servers have opened. ​