The Information Security Officers Group (ISOG) continued its cybersecurity campaign this year with the second forum of I AM SECURE 2023. With the theme Strengthening Defenses: Continuing Digital Transformation, the forum was held on August 10, 2023, at the Dusit Thani Hotel.
While the first forum held in June focused on banking and finance industries, the second forum revolved around equipping and establishing the cyber defenses of the government and public sector in the age of digital transformation.
"As our government implements plans and strategies to reinforce the Philippines' defenses in the digital realm, it needs the support of information security professionals throughout the country. With a huge responsibility on our shoulders, we have to ensure that we are equipped for the battle. The constant need to keep our guard up is the very reason that we are dedicating our time to this forum and other activities organized by ISOG," said ISOG President Archie Tolentino in his opening remarks.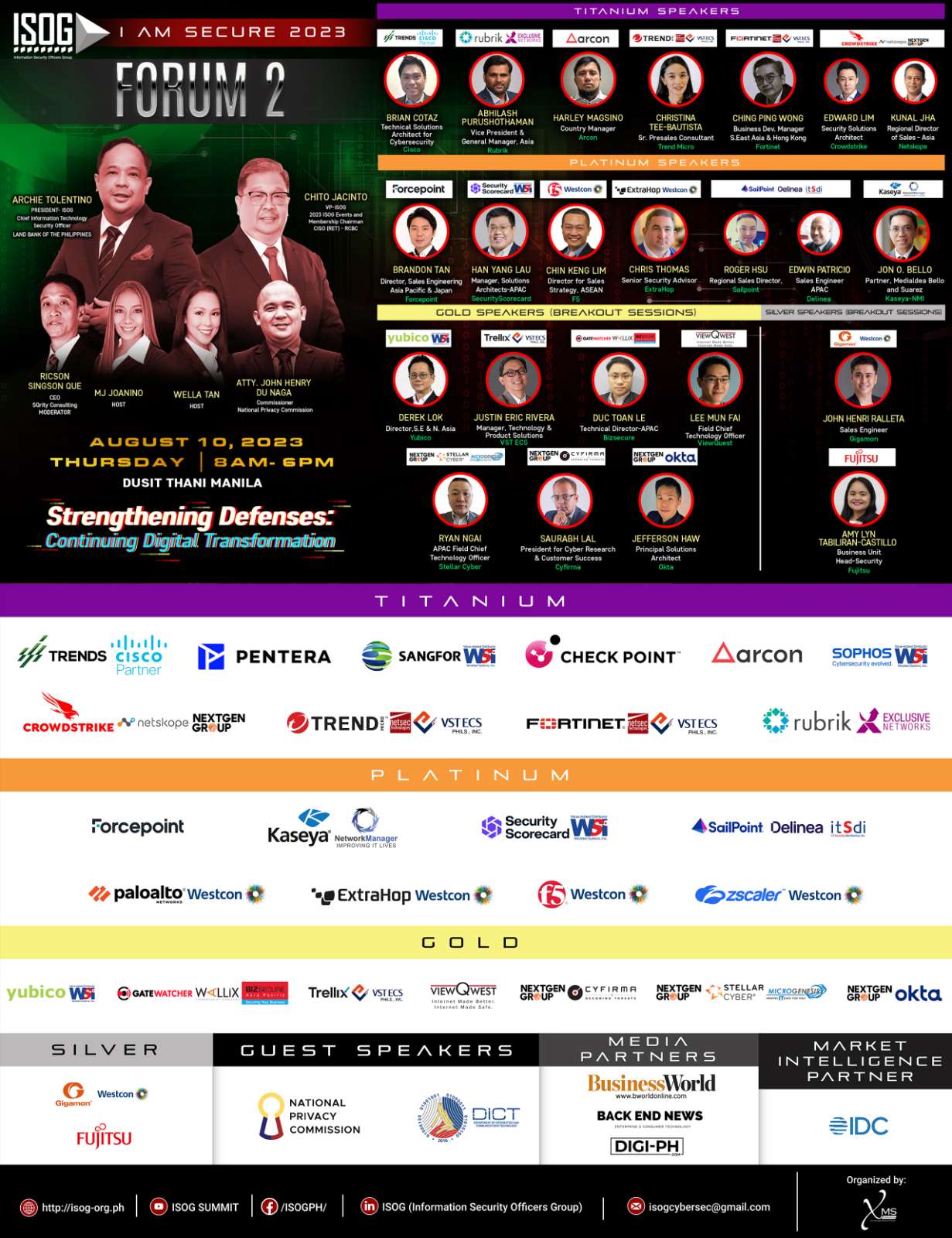 The forum brought together hundreds of participants, consisting of local and international decision-makers, C-suite executives, and cybersecurity experts. The delegates learned about empowering data privacy in the Philippines from keynote speaker, Atty. John Henry D. Naga, Commissioner of National Privacy Commission. Moreover, guest speaker, Vazir Joshua Querol, Project Director for Services of the Department of Information and Communications Technology's National Government Data Center Project, shared updates on current projects that aims to Strengthen the Digital Transformation Journey.
The plenary session featured a dynamic lineup of informative and engaging presentations by global thought leaders and industry experts from the Titanium and Platinum sponsors. The roster of speakers included Brian Cotaz, Technical Solutions Architect for Cybersecurity at Cisco (through Trends); Abhilash Purushothaman, VP and General Manager, Asia at Rubrik (through Exclusive Networks); Christina Tee- Bautista, Senior Pre-sales Consultant at Trend Micro (through Netsec and VST-ECS); Ching Ping Wong, Business Development Manager, SEA and HK at Fortinet (through Netsec & VST-ECS); Harley Magsino, Country Manager at Arcon; Edward Lim, Security Solutions Architect at Crowdstrike and Kunal Jha, Regional Director of Sales – Asia, at Netskope (through Nextgen); Brandon Tan, Director, Sales Engineering Asia Pacific & Japan, Forcepoint; Han Yang Lau Manager, Solutions Architects, APAC at SecurityScorecard (through WSI); Chin Keng Lim, Director for Sales Strategy, ASEAN at F5 (through Westcon); Chris Thomas, Senior Security Advisor at ExtraHop (through Westcon); Roger Hsu, Regional Sales Director at Sailpoint; and Edwin Patricio, APAC Sales Engineer at Delinea (through ITSD, and Atty. John O Bello, Medialdea, Bello and Suarez (represented Kaseya and NMI).
One of the highlights of the forum was the panel discussion among some of the plenary speakers representing the Titanium and Platinum Sponsors. Moderated by Ricson Singson Que, President of SQrity Consulting, the panel discussion entitled entitled Implications of Artificial Intelligence (AI) in Today's Digital Transformation Efforts allowed the forum participants to learn from the panelists' take on how AI can help organizations accelerate their digital transformation journey.
In the afternoon, participants attended a breakout session featuring presentations by speakers from the Gold and Silver sponsors including Derek Lok, Director, South East and North Asia at Yubico(through WSI); Justin Eric Rivera, Manager, Technology & Product Solutions at Trellix (representing VST-ECS); Duc Toan Lee, Technical Director at Bizsecure (with Gatewatcher and Wallix), Ryan Ngai, APAC Field Chief Technology Officer at Stellar Cyber, with Microgenesis (through Nextgen); Lee Mun Fai, Field Chief Technology Officer at ViewQwest; Saurabh Lal, President for Cyber Research & Customer Success at Cyfirma (through Nextgen); Jefferson Haw Principal Solutions Architect at Okta (through Nextgen); John Henri Ralleta, Sales Engineer at Gigamon (through Westcon); and Amy Lyn Tabiliran-Castillo Business Unit Head-Security at Fujitsu.
The forum also provided an avenue for participants to interact with each other through the speed networking session, a series of brief one-on-one information exchanges.
"Attending this forum is one of our ways to sharpen our expertise, equipping us with up-to-date knowledge and skillset essential to ensuring cybersecurity. ISOG commits to providing everyone in our industry with opportunities to advance their proficiency and connect with other professionals," ISOG Vice President and 2023 Events and Membership Chairman Chito Jacinto said.
ISOG is set to hold the ISOG Conference, in celebration of cybersecurity month, on October 26 at Shangri-la at the Fort. The organization is also looking forward to its annual donation drive and corporate social responsibility project in December.
Organized by XMS, the second forum of the I AM SECURE 2023 was supported by media partners, DIGI.PH, Backend News, BusinessWorld, and Market Intelligence Partner, IDC.
ISOG is a leading professional information security organization that provides a platform for companies to the country's cybersecurity community by strengthening information technology through education and awareness programs. Promoting fellowship among information security leaders to achieve sustainable info. security environment.
For more details about ISOG and its campaigns, visit ISOG's official website at www.isog-org.ph and socials at LinkedIn: ISOG (Information Security Officers Group), Facebook: ISOGPH, YouTube Channel: ISOG SUMMIT.
#ISOG #Iamsecure #Cybersecurity