The Information Security Officers Group (ISOG) successfully held the first forum of the I AM SECURE 2023 on June 22 at the Makati Diamond Residences. Following the overall theme of ISOG's cybersecurity campaign this year "Strengthening Defenses: Continuing Digital Transformation", the forum covered topics relevant to empowering IT security professionals in safeguarding the country in the digital landscape."
At ISOG, we aim to expand our turf and empower more white hat experts who share our mission of safeguarding individuals and organizations in the Philippines," said ISOG Vice President and 2023 Events and Membership Chairman Chito Jacinto in his opening remarks. "No doubt, cyber threats and attacks will always be aplenty, but our consistent and collective efforts to strengthen our defenses will propel us to achieve cybersecurity for our respective organizations and ultimately, our country," he added.
With a common mission of strengthening the country's information security, hundreds of local and international decision-makers, C-level executives, and cybersecurity experts participated in the 100% in-person event of ISOG and received insights from various thought leaders and cybersecurity experts. In her keynote address, Bangko Sentral ng Pilipinas Deputy Director for Cybersecurity and Oversight Group Maricris Salud talked about how to strengthen the defenses of Philippine banks in the post-pandemic era. The special guest speaker, Philippine Clearing House Corporation President and CEO Emmanuel Barcena, also shared about strengthening automation in the clearing facility of banks in the country.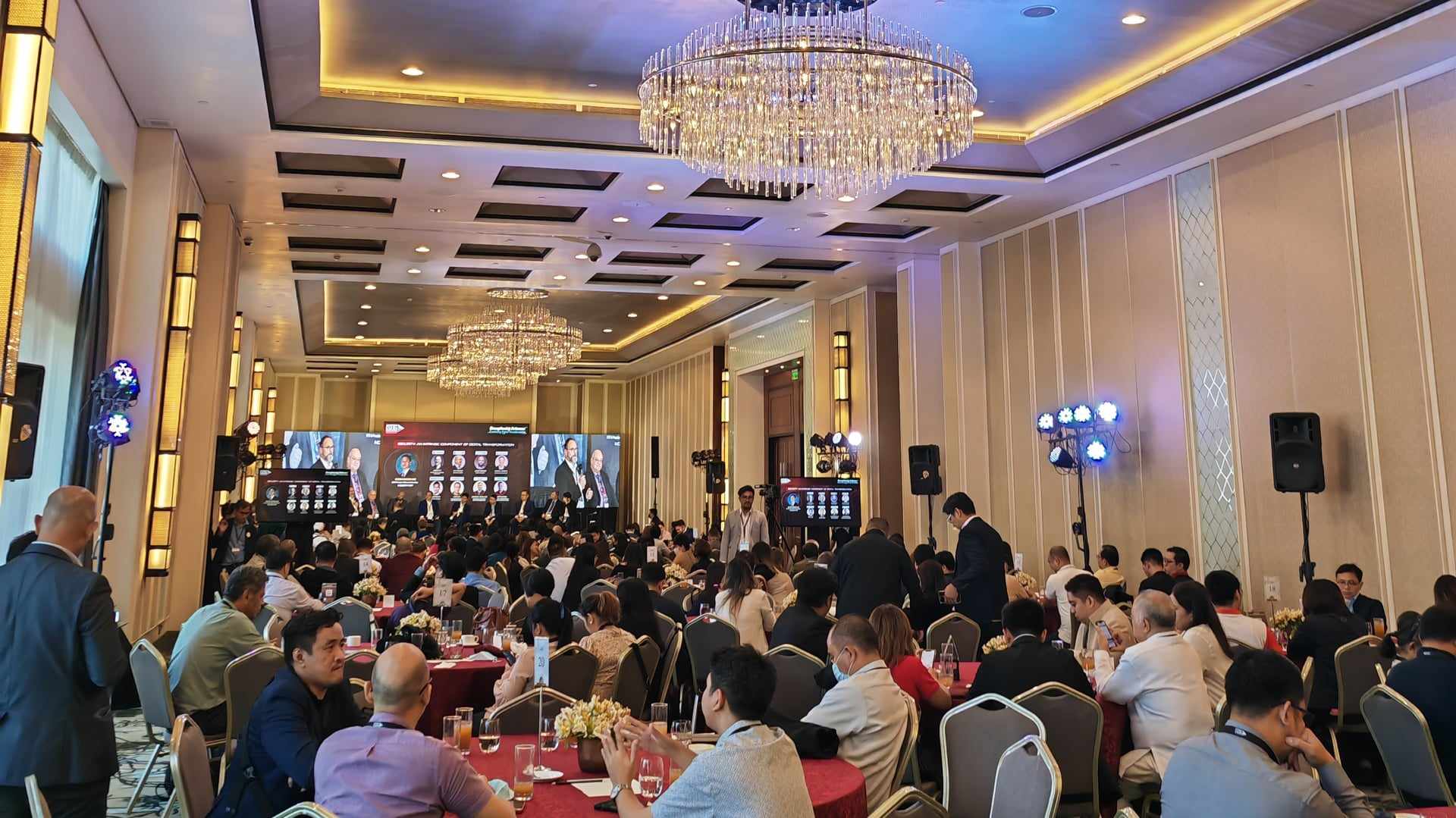 Experts from our company sponsors and exhibitors also discussed different cybersecurity-related topics including malware evasion, zero trust architecture, optimal cloud security, and Fintech cybersecurity. The speakers were Jannis Utz, AVP Head of Sales Engineering in EMEA & APAC of Pentera; Guy Rosefelt, Chief Product Officer of Sangfor though WSI; Jayesh Panicker, Global Solutions Engineer of Sophos through WSI; Michael Cadiente, Security Engineer Manager of Checkpoint; Jonathan John B. Paz, Vice President, EISO and DPO of Bank of the Philippine Islands; Rahim Malek, Solutions Consultant of Zscaler through Westcon; Chen Jun, Cloud Engagement Director JAPAC of Palo Alto though Westcon; and Jan Martin Encina, Associate Director and Head of Information Security Governance & Operations of Maya.
Participants also learned from a panel discussion on security as an intrinsic component of digital transformation. Moderated by SQrity Consulting Chief Executive Officer and President Ricson Singson Que, the panel discussion was an avenue for the speakers to expound on the forum's theme and share industry experiences related to cybersecurity's value in the enterprise.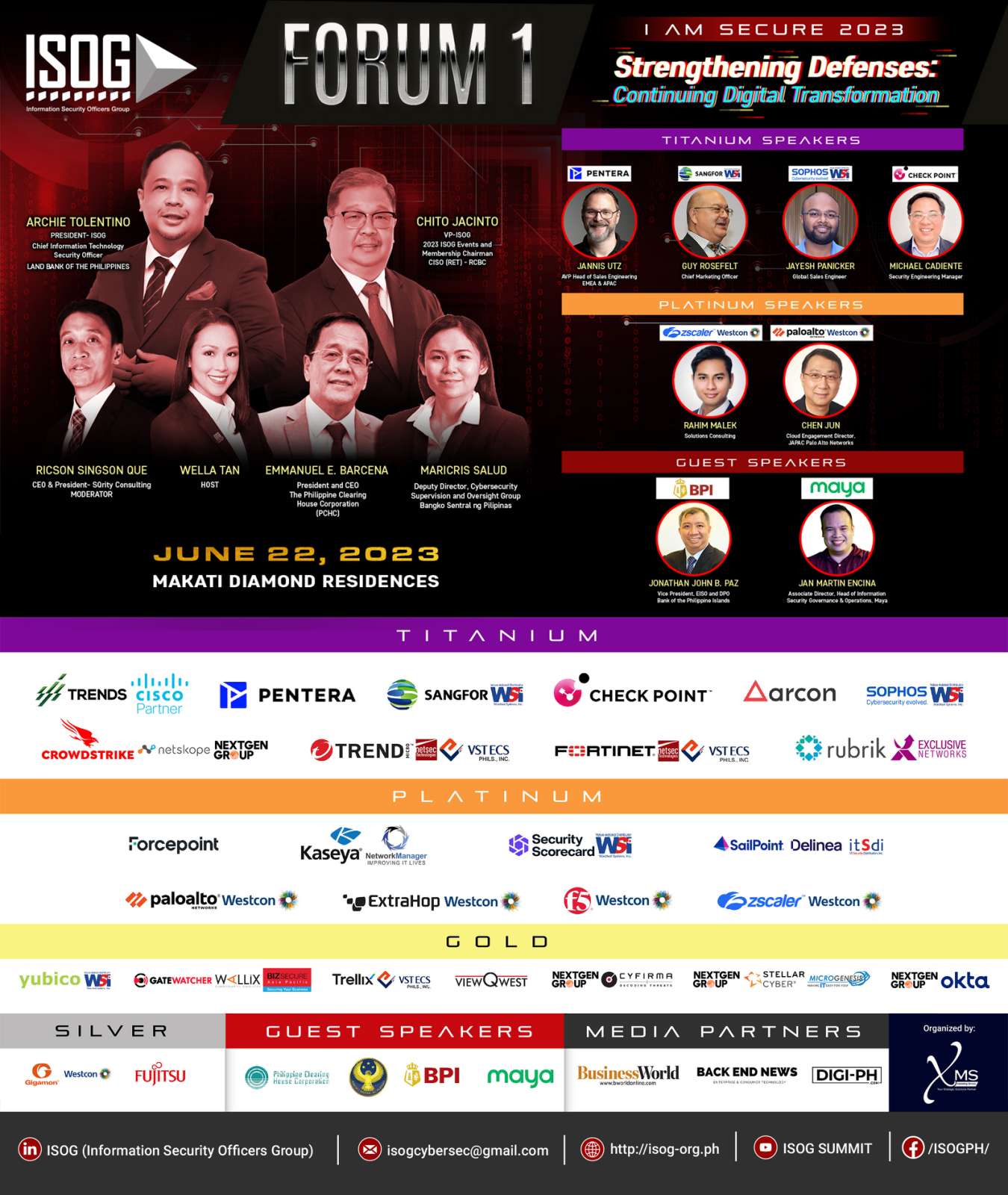 Organized by XMS, the first forum of the I AM SECURE 2023 is one of the cybersecurity awareness programs of ISOG. Media partners were DIGI.PH, Backend News, and BusinessWorld.
Since 2015, ISOG has been organizing programs and events to strengthen cybersecurity awareness and secure network infrastructure in the Philippines. For more details about ISOG and its campaigns, visit ISOG's official website at www.isog-org.ph and socials at LinkedIn: ISOG (Information Security Officers Group), Facebook: ISOGPH, YouTube Channel: ISOG SUMMIT.
#ISOG #IAMSECURE #Cybersecurity